Author:
alfsbob
on Jan 31, 2012, 07:58 PM
Views:
126
Support Topic
:
Click Here to visit Support Topic
Direct Link:
[Select]
HTML Link:
[Select]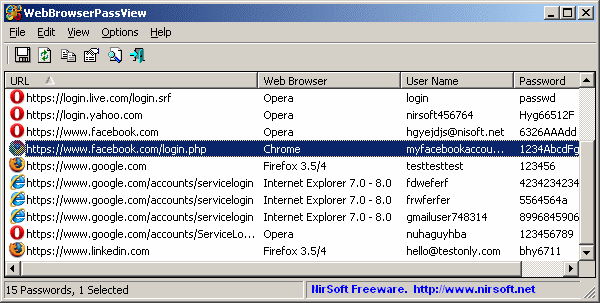 WebBrowserPassView is a password recovery tool that enables you to view all website logins and passwords that are stored in Internet Explorer, Firefox, Opera and Google Chrome browsers.
WebBrowserPassView can be used to recover the lost/forgotten password for any website (including sites like Facebook, Yahoo, Google, and GMail) as long as the password is stored by your browser. You can choose to copy selected entries or export the entire list to CSV, HTML or XML format.
The Program has Added 'Password Strength' column, which calculates the strength of the password and displays it as Very Weak, Weak, Medium, Strong, or Very Strong.